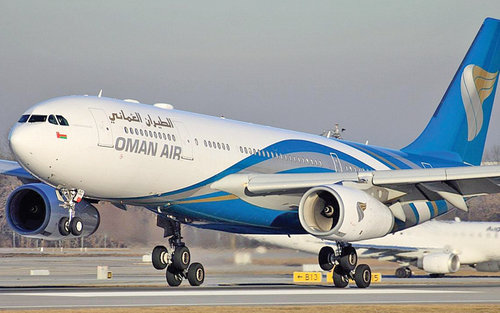 Oman Air, the national carrier in Oman, is growing!
FLYBYSCHOOL has designed a special program taylored to meet Oman Air's requirements. The course will be 15 months, following the same timeline as the Integrated ATPL Program but adding one additional month of training. More about the Integrated ATPL Program.
The Oman Air Program has a one month extention for students to have time to retrieve an extra 20 hours of fly time on an SE-VFR in order to comply with Oman Air's pilot requirements.
Oman Air requirements are to have minimum of 200 Total Hours and 100 PIC hours (Pilot In Command). With our training you will not only complete 100 PIC hours but a total of 238 hours including a Multi Crew Cooperation course.
With our training you will gain the EASA Commercial Piloto License (CPL) coupled with Instrument Rating (IR) and Multi Emgine (ME). Additionally you will gain your Airline Transport Pilot License Theory (ATPL theory) and Multi Crew Cooperation (MCC).
---
Requirements
Be at least 17 years of age to apply (18 to commence training).
Be able to obtain an EASA Class 1 medical without restrictions. To be taken upon arrival to Spain.
Mandatory: Passing our admission tests which include Personality, English, Mathematics and Physics.
Suggested: Completed secondary or high school education.
Admission tests which will be taken online from home:
Aptitude test:

Symbiotic ADAPT test
The system features 64 proven aviation specific psychological profiles mapped to 64 specific aviation training organization profiles that integrate for fitting individuals to roles, taking nationality and culture into account. According to the company, ADAPT Online Pilot Selection can be used by aviation organizations anywhere in the world with a wide range of contextual settings for different cultures, languages, specific air domains or environmental situations. Test styles are nondiscriminatory to gender, ethnicity, age or learning backgrounds.
English for non-native speakers equivalent to ICAO 4 or IELTS 5.5.
Mathematics & Physics Time controlled tests are compliant with IATA standards.
---
Cost & Inclusions
Graduates of FLYBYSCHOOL are issued with the EASA Frozen Air Transport Pilots License (Airplane).
The price of the course is €66,150 which is inclusive of VAT, all training, landing fees, accommodations, shuttle between dormitories and airport, iPad, etc. Price does not include meals.
Students that do not want to include accommodation, the total price will be €61,650
Payment schedule:
To start application process and take admission tests online: €1,000
To receive Letter of Acceptance required for the Visa Application Process: €15,000
From start of training: €3,350 (€3,050 without accommodation)
Last month of training (month 15th): €3,250 (€2,950 without accommodation)
Items included in our all-inclusive tariff:
Accommodation for 14 months on a single bedroom in a 3 bedroom apartment at University dormitories. Address:
Residencia Emilio Hurtado
Av Emilio Hurtado, S/N
24007 León, Spain
+34 987 22 88 56
Shuttle service between dormitories and airfield for 13 months (no flying during first 2 months). Dormitories are walking distance from University.
Study material from Bristol Ground School or similar (12 month subscription).
iPad
Ground exam fees at SENASA in Madrid (1 try per subject).
Flight skill tests (2 tests total).
Trip to SENASA including accommodation and meals for the exams (2 trips).
Headsets (1 set).
Initial Class 1 Medical.
Aeronautical Charts

Access to AIP charts from AENA
AENA 1:500.000 from León
Ministry of Defense 1:1.000.000 East and West
Ministry of Defense 1:2.000.000 IFR España

Flight Manual
Computer CR3
Log Book
Maneuvers Manual
Uniform

2 trousers
3 shirts
2 ties
1 jersey

Basic Health Insurance required for the Spanish ID for foreigners (15 months).
All material must be returned upon completion of the training. If the material is damaged, the student will be charged with the cost of replacement plus 10% for admin costs.